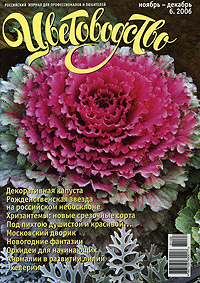 Российский журнал "Цветоводство" во 6-м номере (ноябрь-декабрь) за 2006 год опубликовал мою статью про питомник камелий семьи Нуччио.
Я также написал статью на английском языке на эту же тему и поместил ее на мой сайт www.sazanka.org.
A leading Russian ornamental horticulture magazine Tsvetovodstvo published in its November-December 2006 issue my article about the famous Nuccio's Nurseries in Altadena, California. I also wrote another article in English about Nuccio's and put it on my website www.sazanka.org (although these two articles are not translations of each other). Here is an excerpt from the article written in English:
Nuccio's Nurseries is a medium-size family-owned wholesale and retail nursery specializing in growing and hybridizing Camellias and Azaleas. Nuccio's is well known as one of the richest Camellia nursery in the United States in terms of number of cultivars and species available for sale – more then 600. Nuccio's family is one of the most recognized sources of Camellia and Azalea introductions worldwide.
A photo picture of Nuccio's Nurseries, Inc: